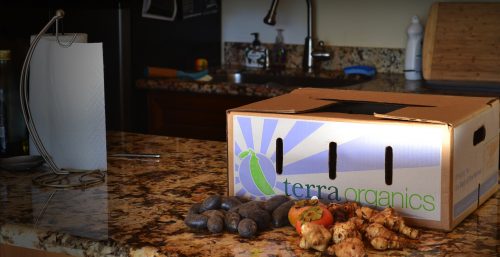 What is your delivery area?
If you're uncertain about whether we deliver to your neighborhood, send an e-mail to
info@terra-organics.com
and we'll be happy to check for you!
Is everything certified organic?
Yes, everything we grow at our farm in Orting, as well as the produce we buy from other farms in the region and elsewhere are all USDA certified organic (that's everything in the Organic Fruits and Veggies section of our webstore!). We also offer a wide variety of other groceries with a local focus. Many of these are also certified organic, while others are using healthy, sustainable practices, but don't have organic certification. The item title or details will provide information regarding whether each item is certified organic, or using organic ingredients.

What is my delivery day and time?
When you sign up, you'll receive a confirmation email with your delivery day. We deliver Monday through Friday and our schedule is based on zip codes. Delivery time varies a bit week by week and is determined by where your home or delivery location falls on our route. We start delivering in the morning and finish up by 6 pm. Still curious? Call us at 253-627-1581, or email
info@terra-organics.com
and we will let you know when we deliver in your area.
What if I only want to purchase local food?
Each item in our webstore includes producer information so that you can have 100% control over which farms you are supporting. If you'd like us to put together a local order for you, you can choose our Pacific NW order which is filled each week with a variety of produce grown in the region. We also offer local, single-farm CSA orders every summer!

Can I customize my order?
Yes, by logging into your account and visiting the Store you can completely customize any of our standard boxes*. You can also shop without choosing one of our standard boxes; just build a custom order from scratch!
*The Helsing Junction seasonal CSA orders are not customizable but you are free to add any items you'd like from the Terra Organics webstore!
Do you sell items other than produce?
Yes! We sell local organic eggs and milk, coffee, butter, cheese, grass-fed meats, bread, dried fruit, nuts, honey, jam, kombucha, sauerkraut, grains and more. Keep an eye on our webstore for more items to come.
Are there any fees?
There is no fee to sign up or to cancel. There is a flat fee for home delivery. Orders of $55 and over have free delivery and if you choose to pickup at one of our community locations, the delivery fee is waived. Orders containing glass bottles for milk, yogurt, or kombucha include a $2 refundable glass bottle deposit per bottle.
Any refunds on pre-payment are subject to a $15 processing fee.
How do I pay?
We accept Visa, MasterCard, American Express, Discover, and electronic check. Payment is processed automatically the day following delivery. You can get in touch with us if you'd like to choose to make prepayments instead.We also accept EBT (food stamp) payments.
Is my information secure?
Definitely. All payment related information is done via HTTPS and we are in full compliance with all PCI standards.We also never sell or share your information with other parties.

How often do you deliver?
We can deliver as often as once each week. You can also set up orders to arrive every other week or once a month. If you're just shopping on a custom basis you can place an order any week you'd like for delivery on your designated day.
Is it a problem to deliver to offices or apartments?
We are happy to deliver to both offices and apartments. Just make sure we have your gate/entry codes, community name, and/or special instructions to make the delivery seamless.

What if I am not going to be home?
Your deliveries will be packed in cardboard boxes lined with recyclable paper, and any especially sensitive items such as milk and meat are insulated with ice packs and additional packaging. You may also leave a cooler outside, and we can easily transfer the order into your cooler. Or, order one of our coolers in the web store (available for a refundable deposit).
How do I return bottles and special packaging materials?
We'll pick-up your milk, kombucha, and glass yogurt bottles as well as the extra packaging sent to keep these, as well as meat and frozen food, items cool. There is a $2 refundable per bottle deposit for orders containing glass milk, yogurt, or kombucha bottles. Set out your bottles, ice packs, and foil bubble wrap on your next scheduled delivery day and we'll credit the deposit fee back to your account. If you use a community pick-up location, make sure to return these items in your box with your name on the label.

Is there a pick-up location in my neighborhood?
Terra Organics has pick-up locations spread throughout many of our daily routes. Pick-up locations are a great way to support Terra Organics and other local small businesses while providing you a safe and convenient option for receiving your Terra order. Take a look at the map below to see if there is a convenient location in your neck of the woods. Don't see one? We're always looking for suggestions! If you know a local small business we might partner with, please let us know!

What do I do with the box?
Just leave your empty, flattened box out on your next scheduled delivery day (or return it to your pick-up location when you drop by for your next order) and our driver will make the exchange.
What do I do if I have an issue with my delivery?
Please call us right away at 253-627-1581 or email us at
info@terra-organics.com
. We guarantee the accuracy and quality of our products and service 100%.
What is the deadline to create or change my order?
Order Deadlines:
For Tuesday Delivery: Monday noon*
For Wednesday Delivery: Tuesday noon*
For Thursday Delivery: Wednesday noon*
For Friday Delivery: Thursday noon*
*Essential Baking Co. Bread orders due at noon one day before your general ordering deadline

How do I cancel an order that is already scheduled for the week?
If you haven't passed the cut-off time for order changes, log into your account and go to Skip Deliveries under My Account. The vacation dates you select must include the day of the delivery you wish to cancel. Make sure to press the Save Away/Vacation Dates button. If you get back early, you can always click the I'm Back Early – Start My Deliveries Again button.
Any request to cancel an order needs to be completed before the web store cut-off deadline.
It is our customer's responsibility to cancel their account when they wish to stop receiving deliveries. Any orders delivered without notice of cancellation will be paid for by the customer. To cancel your account, please call us at 253-627-1581 or e-mail info@terraorganics.com and we'll be happy to assist.

How is this different from a CSA?
Actually, Terra Organics does offer seasonal CSA options for customers who want to order directly from local farms. Take a look at the 4 Farms Local CSA box on our Produce Boxes page. Along with supporting local farms, Terra Organics offers variety, flexibility and year-round service that most traditional Community Supported Agriculture (CSA) programs can't provide. Because we source from many different farms and small businesses, we can offer a wider variety of produce and other groceries. Unlike a CSA, we don't bill you for a season up front, you can even just make one-time orders, and you can skip a delivery or change your delivery frequency as needed. You can also customize each delivery to suit the needs of you or your family. Also, we deliver your order right to your door!