"Kim and Dan Hulse are 'first generation' family farmers who combine marketing savvy with a passion for the land as part of a pioneering effort to revitalize agriculture in Western Washington." – Tilth Producers of Washington
Dan learned the produce industry as a warehouse manager for Organically Grown Company, one of our region's largest organic produce distributors. The couple met in 2003 while working at Terry's Berries in the Puyallup Valley. The following year they leased five acres of land near Enumclaw in east King County to begin their own farm, and they started Terra Organics, a home delivery service to provide a market for their crops and select produce from other organic farms.
With their hands-on farming experience and background in organic produce marketing, in 2009 Kim and Dan made the bold step of purchasing one of three parcels at Orting Valley Farms, a 100-acre former dairy preserved by the PCC Farmland Trust in collaboration with the Washington State Wildlife & Recreation Program and Pierce County Conservation Futures Program. The PCC Farmland Trust secured a conservation easement on the land, ensuring that it is saved for organic production forever and making it affordable to a new generation of farmers.
Kim and Dan chose "Tahoma Farms" as the name for their 40-acre parcel in homage to the Native American name for Mount Rainier, which rises majestically 30 miles to the southeast. Located along the Puyallup River, the farm's rich, well-drained soils were formed by a succession of volcanic eruptions over the past 10,000 years.
Sustainable Produce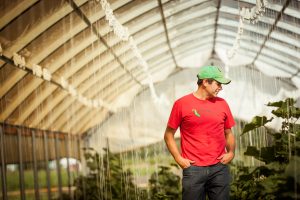 Dan and Kim started Terra Organics to provide customers with a seasonal, home-grown CSA, combined with year-round delivery of premium, organically grown fruits and vegetables.
During the growing season more than half of the produce distributed by Terra Organics is grown at Tahoma Farms. Although we supplement our delivery service with crops grown outside our region, we also buy premium fruits and vegetables from several of Washington's top organic farms, including Ralph's Greenhouse in the Skagit Valley, Willie Green's in Snohomish County, and Alvarez Farms in Yakima Valley. In addition, we purchase from Organically Grown Company, a regional organic produce distributor, and Farmer's Own, a network of organic farms that market through Charlie's Produce. Along with fresh produce, Terra Organics offers grain products from Bluebird Grain Farms in the Methow Valley and eggs from Stiebrs Farms in Pierce County.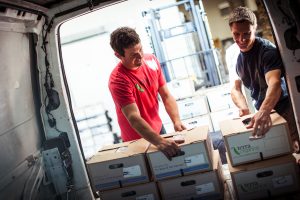 Terra Organics and Tahoma Farms are committed to organic production practices, including long-term crop rotations, planting green manures, and utilizing compost to build the soil. In the same way that we are growing a sustainable farm, we are growing a business that will strengthen the local food economy and nourish our community for years to come.
With excerpts from the Tilth Producers Farm Profile